welshfarm.co.uk Coedhirion Farm offers a range of high quality accommodation to suit everyone. You can enjoy Bed and Breakfast in our lovely old farmhouse, the independence of a self-catering cottage or a taste of outdoor living on our small site for touring caravans and tents. Coedhirion is a working farm with native cattle, Texel and Coloured Ryeland sheep, friendly donkeys and a beautiful Bassett Hound!!
We are situated on the A48/M4 dual carriageway. The Gower peninsula, Carmarthen Bay, the castles of the Towy Valley and the Pembrokeshire Coast National Park are all easily accessible. The National Botanic Garden of Wales is five minutes drive away and the superb new racecourse at Ffos Las is just twenty minutes from our front door.
The historic village of Llanddarog is within walking distance and was Calor Village of the Year in 2004. It has two renowned 17th Century inns both of which are featured in Good Food Guides and St Twrog's Church is a well known land-mark.
Selwyn, Daphne and Tomos Evans look forward to meeting you and welcoming you to our award winning enterprise. We have provided high quality accommodation for the past twenty years. Come and see for yourself!
Mae welshfarm.co.uk - sef Fferm Coedhirion - yn cynnig amrywiaeth o lety addas ar gyfer pawb. Gellwch fwynhau gwely a brecwast yn ein ffermdy hynafol hyfryd, bwthyn hunan arlwy neu flasu bywyd yn yr awyr iach ar ein safle dethol ar gyfer carafanau a phebyll. Mae Coedhirion yn fferm weithredol gyda Gwartheg Duon Cymru, defaid Texel a defaid Ryeland Lliw, asynnod cyfeillgar a chi Bassett Hound hardd!!

Fe'n lleolwyd yn agos at ffordd ddeuol A48/M4. Mae'n hawdd cyrraedd Penrhyn Gwyr, Bae Caerfyrddin, cestyll Dyffryn Tywi a Pharc Cenedlaethol Sir Benfro. Gellwch ymweld â Gardd Fotaneg Genedlaethol Cymru o fewn pum munud mewn car ac mae cwrs rasio ceffylau newydd gwych Ffoslas o fewn ugain munud o garreg y drws.

Mae pentref hanesyddol Llanddarog yn ddigon agos i gerdded iddo - pentref a ddaeth i'r brig yng nghystadleuaeth Pentref Calor y flwyddyn yn 2004. Ynddo ceir dau dafarn enwog o'r ail ganrif ar bymtheg sy'n cael eu henwi yn y Good Food Guide ac mae eglwys San Twrog yn le nodedig.

Bydd Selwyn, Daphne a Tomos wrth eu bodd yn eich cyfarfod a'ch croesawu i'w menter sydd wedi ennill gwobrau. Rydym wedi cynnig llety o safon uchel ers ugain mlynedd. Dewch i weld drosoch eich hunain!
Croeso i Coedhirion!

Selwyn, Daphne and Tomos Evans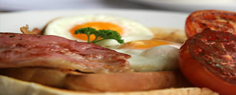 Award Winning Breakfast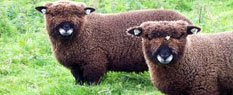 Rare Coloured Ryeland Sheep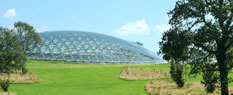 National Botanic Garden of Wales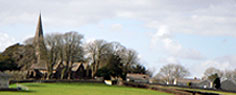 St Twrog's Church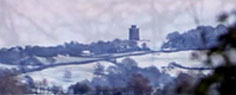 Paxton's Tower